Not Your Grandfather's Siding. I remember playing in my grandparents yard when I was young. My cousins and I would play a rigorous game of dodgeball. Inevitably, the ball would pop up and hit the side of their modest home and it made a very loud hollow noise and usually made a dent in the siding.
For some reason that sound has always stayed with me. Back then, if homeowners sought a maintenance free exterior solution for their home, the product of the day was aluminum siding. Do you remember the film Tin Men? Produced in 1987, it told the story of door-to-door aluminum siding salesmen competing in 1960's Baltimore.
At the time, that's all siding was made from aluminum. Fast forward 50 plus years and siding is now a preferred option in new construction and for home improvement because it has the same look and feel as natural materials giving a home increased curb appeal and value.
There are 5 types of siding (in addition to vinyl) and choosing the right one for your needs depends on many factors. For instance, do you want to keep the style of your home's exterior the same, or is it time for a change? If you already have a stucco exterior you can use stucco siding – which will last a lifetime.
The same is true for brick and stone exteriors. You can opt to have a brick and/or stone siding. But let's say you are tired of the look of the brick surface of your home and you want a warmer, cozier feel? You can change it to a wood siding and it can look like a completely new house. Wood siding comes in a bunch of different styles (i.e. clapboard, shake and shingles) and colors.
 This House Can Be Dramatically Changed to Become…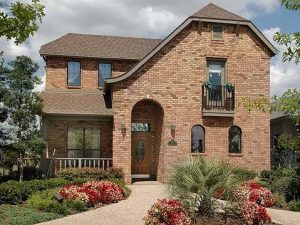 More Like This House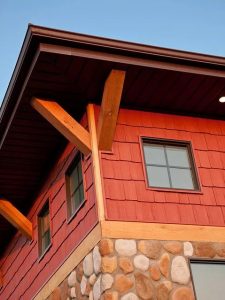 Wood siding and stone siding was used on this house and it looks completely natural and authentic.
We only use James Hardie products for our siding projects. Siding has become the material of choice for builders and developers since the newest technology makes it now look and feel like natural materials. The benefit? It lasts longer and insulates better- making it a far more cost effective alternative to wood, stone or brick. You can choose from 8 different styles and an infinite amount of colors to create the distinctive look you want for the exterior of your home.

We used here on the complete exterior of this home in Newstead, South Orange, NJ. You wouldn't know that it is siding. By designing it using different types of wood siding and molding it makes the home look crisp, and clean. You can read more about James Hardie siding here.
Learn more about your siding options here