The History of Michael J Haris
Michael J Harris, Inc. is steeped in history and tradition. We are a family-owned and operated contractor with three generations of experience. Michael J Harris, Inc. is currently owned and operated by its third generation owner – Michael Harris.
History Meets The Modern Era
Today, the company is thriving and attributes its continued success to using the best grade of material, providing excellent craftsmanship and superb customer service. We cover Essex, Union, Morris, Hudson and Middlesex Counties in NJ. While the company's prices are competitive, it's Michael's expertise in diagnosing the exact nature of a leak and finding the most cost-effective solution for it, that makes the outcome superior to others in the business.
Because of his in-depth knowledge, he is often called in to repair other roofer's mistakes – which end up costing a homeowner twice as much than if they had worked with him from the beginning.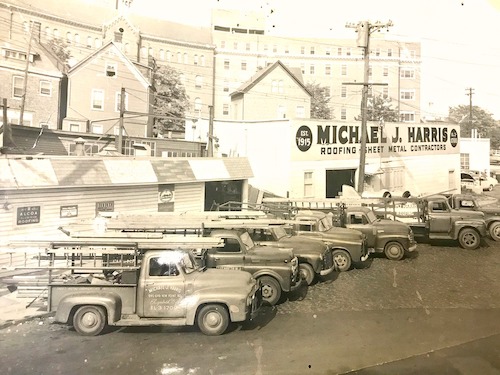 Michael Harris Expands Company's Services
In the early 2000s, Michael expanded the company's services to include masonry. It is a very natural extension since chimneys are part of the overall roof system. Now masonry accounts for approximately 30% of the overall business.
Further expansion now includes basement waterproofing, installation of new windows, skylights, railings, and specialty siding. In addition to expanding services, Michael responded to customer demand for financing. Michael J Harris now offers interest-free financing – available on jobs over $5000.
Roofing & Masonry Since 1915
Three Generations of Craftsmanship and Customer Service


Jay Michael Harris started the company in 1915
His son Harry Harris ran the company from the 1960s to the mid 1980s
Michael Harris has been running the company from the mid 1980s to the present.
A leading competitive edge of working with Michael J Harris, Inc.is the impressive experience and knowledge of their roofing specialists. They have been hired, trained and developed by Michael Harris and they only work for him.
The Foreman has been employed by Michael J Harris Inc. for over 20 years. He is incredibly hard-working and ensures each customer is completely satisfied.
Call Michael J Harris Today (908) 553-0284
Keep Up with Home Maintenance Tips and Trends with our Blog
Follow Us on Social Media