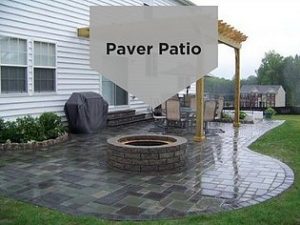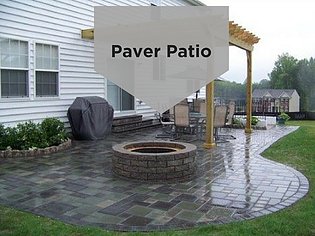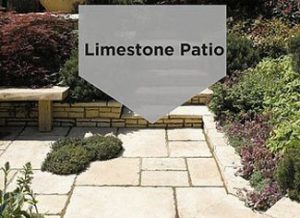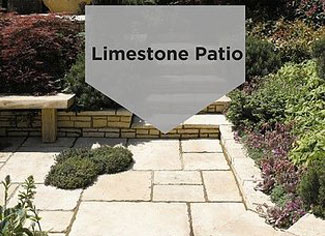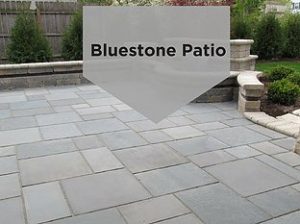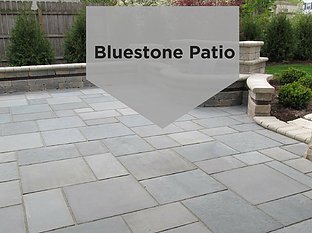 Thinking of installing a new patio or walkway and overwhelmed by all of the options? There are so many different choices in terms of design and materials. So how does one start and make sure they will end up with a perfect patio? In addition to installing walkways and patios for our customers, we have been successful at counselling them on the overall design and materials and they have been very happy with the results.
So, we thought it might be helpful to share our consultative process with everyone. We have broken down designing the perfect patio and walkway into 5 steps – some have a few decisions within a step.  Here are the 5 steps:
Step # 1
The area in need of repair or replacement needs to be analyzed in terms of it's use. Will the patio be purely decorative or will it be be lived on? Will it have outdoor furniture placed on it? If so, choose something with a smoother surface area.
If the walkway or patio is on the side of the house and used infrequently you can use a more precious material. If it is going to accommodate high traffic, you will want to use a more durable material.
Step # 2
What threshold do you have for maintaining the patio or walkway? Are you OK with using materials that require some maintenance, a lot of maintenance or no maintenance? Some patios and walkways can add incredible design elements to your home's exterior, but require more maintenance.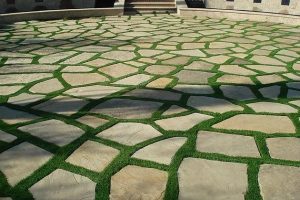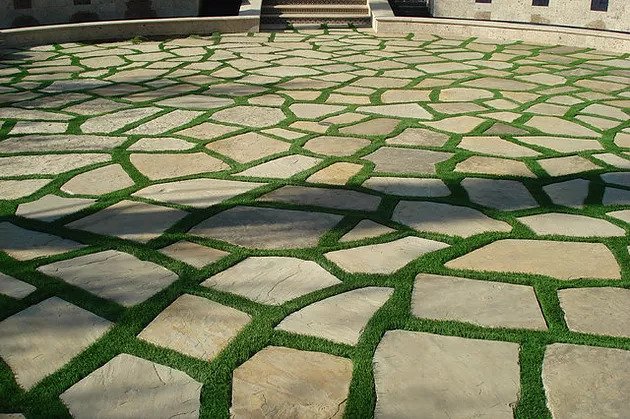 In this picture above, the stones were placed in a grid pattern that allows for the grass to show through which creates more of a landscape feel than a solid patio. While they are beautiful they require a tremendous amount of upkeep .
Step # 3
Define your style. This is a major step within the overall process, because it will help define the materials you will use for patio or walkway. If you have a more modern landscape, you may choose a more sleek material in a more sleek design. Conversely, if you have a Mediterranean style landscape both the design and materials will be completely different.
Think about the overall look and feel you want to achieve in the area you are landscaping. You may want to create an urban feeling, a country setting or an English garden feel. These choices are best made by viewing magazines and websites and saving pictures of those you like best. Here is a great page that showcases patios and you can see choices in different materials.
Here are some ideas for helping you to define your style: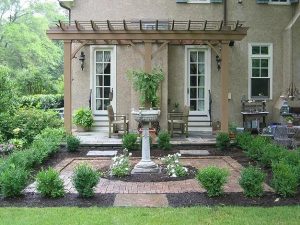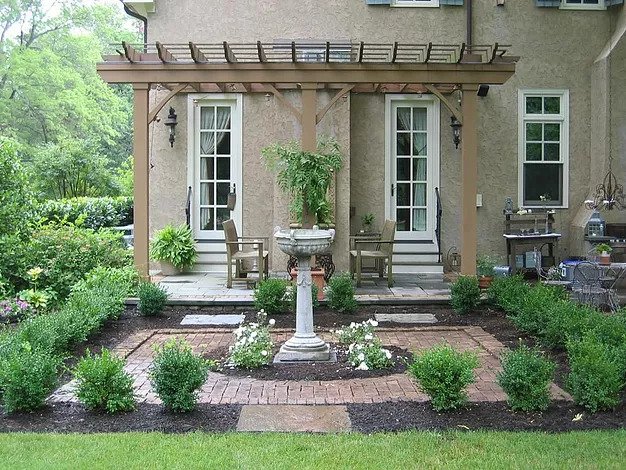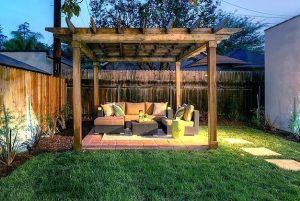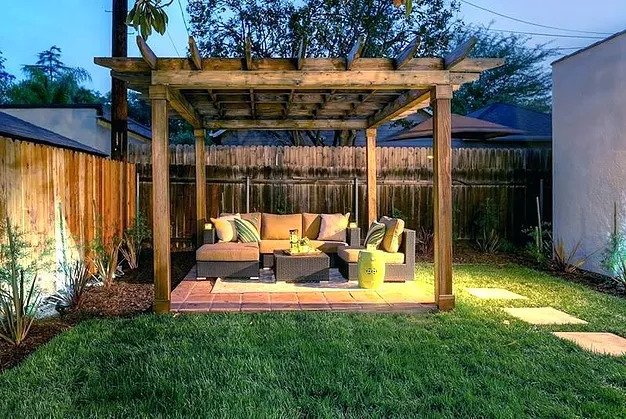 Step # 4
Think about the size of the space you want to create. If the patio is on the side (like the English garden style pictured above) it may be a lot smaller than one that is situated in a backyard. Think about proportions. How big is the overall space and what percent do you want landscaped?
If you have a smaller space, you might consider the Rear yard patio pictured in the slideshow above that adds great entertaining space, that is in proportion to the overall size of the yard.
Step # 5
Set a budget. We recommend doing this as a last step, because there are so many ways to configure the project to fit into a defined budget. For instance, if you want something sleek, and not too big we can choose the right materials to fit within in your budget. Also, if you have decided an outdoor kitchen is essential, we may recommend a smaller size patio to meet your budget.
As a company policy we only use natural materials (slate, brick, limestone, bluestone etc). That is what our craftsman are trained for and we think it better accessorizes the natural beauty of the landscape. There are manufactured materials you can choose, but we just don't offer them. View all of our additional services here.
I hope you are enjoying the last part of the summer in whatever space you currently have and will call us for a free estimate on helping you design a new space in the future.