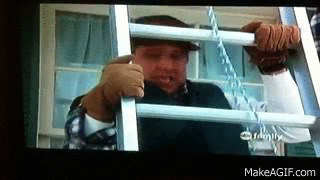 Every time a friend or customer tells me they tried repairing a roofing issue on their own, I cringe. Don't get me wrong, I think being a "Do it Yourself" type of homeowner is to be commended, except when it comes to your roof. Unlike many other projects around the house, making roof repairs can be dangerous and requires craftsmanship and experience for the job to be done right.
In fact, according to the International Association of Home Inspectors, "each year, there are more than 164,000 emergency room-treated injuries and 300 deaths in the U.S. that are caused by falls from ladders." And even more eye opening, "most ladder deaths are from falls of 10 feet or less."  Climbing a ladder is a very dangerous act, especially when its not something you professionally.
Additionally, repairing a leak or cleaning your gutters may sound simple, but are actually quite complicated projects if you want to alleviate further problems down the road. What you might see with your naked eye may be just a symptom and the cause of the problem may be quite different.
 Sometimes a stain in a ceiling can be caused by something not immediately located near the spot. Water can travel quite a distance and can be caused by a variety of issues including backed up gutters, ice damning, deteriorated or cracked shingles and more.
In the long run you will save money and much time hiring a professional with years of experience to accurately diagnose the source of the leak and repair it so it won't leak again.
Michael J Harris Inc is happy to provide free estimates and if contracted, we don't take any money down before starting the work.
You can also use our financing option for a 12 or 18 month no interest, no money down program. Learn more about it here.